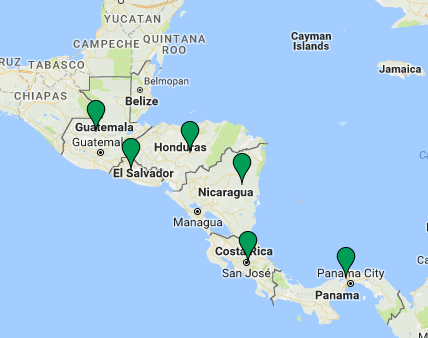 This year we will set off on a journey to circumnavigate the globe on a scooter with a sidecar. En route we're going to be telling the stories of the people we meet in the hope of inspiring a more personally connected world. We want to tell stories that truly reflect what life is like for these people so we are teaming up with a range of small NGO's and charities around the world to help us tell their stories better. One of these organisations is the Environmental Network for Central America (ENCA).
ENCA have been working with small grass route organisations in Central America for decades. We met up with Martin Mowforth, editor of the ENCA newsletter and author of the Violence of Development, to find out a little more about what we can expect in the region and to learn about the kind of problems that the area faces. Here's what he said.
What does ENCA do?
ENCA does what it has always done. It's tried to link itself with Central American, socio-environmental organisations, grass route organisations, local and small scale organisations, which are in a regular struggle against the pressures that are being exerted on their environments, their communities and their societies. We link with them in terms of getting information from them and publicising what is happening to them and their campaigns or projects.
What sort of issues are these organisations facing and what actually are the main pressures on the environment and the communities there?
Since 1990 the major pressure on societies and the environment in Central America and many other places around the world, especially in the Global South, have been pressures exerted by neoliberal economic development, which is essentially the laying waste of the natural resources of these lands, for the sake of profit. Now, the people most able to do that are Western based transnational corporations, so it's our companies. And when I say our companies I don't just mean British but European and particularly US corporations and particularly, in the mining sphere, Canadian corporations, but we should also include Chinese, Japanese, Australian and many others as well. They are taking part in the extraction or exploitation of natural resources in these lands and most of the organisations we support or link with are battling against the loss of their resources because they're being taken away and turned in to wealth by these corporations. So, what happens to that wealth? The vast majority of it leaks out to the head office of the corporations and miniscule amounts stay in the community and in other cases none of it stays in the community. And where that doesn't work [when communities and environmentalists fight back], companies are using other techniques like criminalisation and even assassination. Now, the companies aren't directly involved. They employ third or fourth parties or pay the local mayor or local dignitary and the dignitary will hire local henchmen [to carry out these assassinations]. So, where death threats don't work, where criminalisation doesn't work, where other violations of human rights don't work, assassinations will be called in. And there are so many examples where this is the case. Not just in Honduras [the murder capital of the world] but in all of the northern triangle. That is Guatemala, Honduras and El Salvador.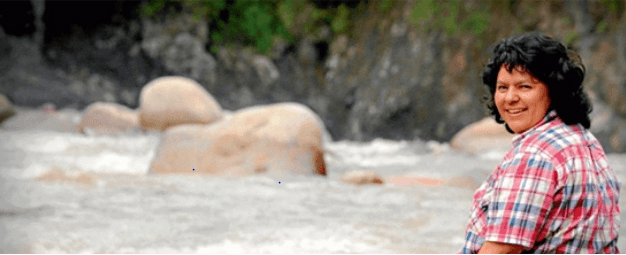 We'll be raising for Freedom United and as a result have a focus on modern day slavery – do ENCA do anything to fight modern day slavery in the region?
Well certainly not directly but we do work with organisations, who for instance represent workers in Maquila's. The Maquila's are the sweat shop factories. Which are, imports in, no taxes, sew on a button, export out, maybe to South Korea or Madagascar or whatever. That's how the Maquila system works and its tax free and so the government get nothing from it, but the reason they allow it is because it provides employment. But in general, it provides employment that is really poorly paid – very, very, very poorly. And especially the Korean and South East Asian owned Maquila's are renowned for sexual abuse of their workers. And there are problems with things like, for women, having to hide pregnancy because if they go to the toilet they get their wages docked and of course if they're pregnant they go to the toilet more often. And if they get found out, that they're pregnant, that's it, they lose their job.  So, some of the conditions of work are just dreadful. And when a new Maquila opens up there are huge queues outside of it to get a job, even though its well known that the conditions of work are terrible… So, modern day slavery does exist in the region. It exists in the Maquila's but it also exists in other places such as the plantations where some of the work is just unbelievably difficult and long in the toughest of natural conditions, toiling under the sun and one of the organisations I'd like you to go and visit is PASE in Nicaragua who are fighting against CKDnT [chronic kidney disease of non-traditional sources], which occurs from workers that are not getting enough water in the fields and there's a belief that it's to do with the chemicals used as well – although that is not yet been scientifically proven – the dehydration has. That's another form of slavery in a way…it's not forced labour in that there's somebody on a horse cracking a whip but it's forced by the economic situation
So, for people like us who haven't been to the region can you set the scene as to what Central America and the Central American people are like?
Ahh here we go! The people are lovely you're going to have a great time – they're all friendly. I mean one of the places with the highest rates of homicides is El Salvador – I love it! Everybody I have ever come across there is lovely – even people who disagree with your opinions…There are lots of differences [between the different places in Central America] and lots of lovely people, who will always want to help you – sometimes they'll want to help you so much that when you ask for directions they'll tell you them, even if they don't know, just because they want to help – so make sure you get it verified!
Do you have any tips for when we are there?
I would say that you will have a wonderful time. Go with humility, which I'm sure you will. Go with a smile all the time. The people absolutely love a smile and they will return it to you and that will start you talking. But do keep your wits about you at all times.
You can learn more about ENCA through their website at ENCA.org.uk. If you know of any organisations that work in any of the areas on our route, then please get in touch and let us know – we are always looking for great, local organisations to partner with.