Merry Christmas everyone!
We've made it to Moscow! Well actually we're 200km's past there and we're well on our way to Saint Petersburg!
Over the past six weeks we racked up 9200km from Vladivostok to Moscow. It's safe to say it's been the hardest thing we have ever done. We never imagined that it could be so hard. At times it just felt like the most horrific idea of our lives. We drove in temperatures as low as -37C and we now know what cold is. When you do something like this people will tell you that cold is cold and -5 in the UK is no different to -30 in Russia. They are wrong. A slight breeze feels like it's going to take any exposed skin with it and it's just incredibly uncomfortable.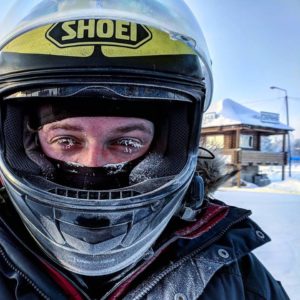 Fortunately though, the cold weather gives way for the most fantastic atmosphere from fellow people on the road. There's a mutual understanding from other people of just how cold it is and they do anything they can to help you. Whether it's been strangers pulling us over to make us a coffee or the biker community warming us up with copious amounts of vodka, we have been dragged along by the kindness of the Russian people.
For us, this has been the ultimate endurance challenge. We've crossed 7 time zones and driven every day for six weeks (except one where we fixed the bike). With roadside repairs and pushing up the odd hill it's been physically exhausting. We've both shed the pounds – Reece has lost a stone and Matt has lost a half of one. But it's also been mentally draining. Don't tell our mothers but we've spent almost everyday praying that the next slip won't be in to an oncoming lorry and that we'll live to taste the borscht at lunch…
The people have been amazing and the scenary has been mind blowing. It's been an incredible experience and something that we will never forget (for so many reasons).
We'll be cracking on tomorrow and continuing our drive to the Ace Cafe. Thanks for all of your support over the past 6 weeks! If you're feeling generous this christmas then why not donate to the organisations were supporting on our website? We're just a few pounds off smashing that £6,000 milestone!
Merry Christmas!
Matt and Reece