"We think you are finally realising, your greatest hazard is not the Russian weather, it is not the Russian roads, it is the Russian hospitality!"
It's been over a week since we last emailed you and we have been racking up the miles ever since. We've mustered up over a thousand in fact and they've been full of fantastic scenery like the picture above. We snapped this scene just a couple of days ago on our way in to Kurgan. It was a day where absolutely everything was white. There was a freezing fog in the air so it looks pretty but a wet -9°C feels more like -19°C so it feels pretty cold too!
Thankfully though we were warmed up by the Russian hospitality again. We've stayed with the biker community two nights on the bounce and after braving the freezing fog in Kurgan, we were first taken in by Vladimir.
Vladimir had arranged for us to put the bike in his friends garage and as we arrived there we noticed that our sidecar joint had cracked again. Edward (the owner of the garage) and his friends were more than happy to help us fix it. Well we say help us fix it – we really mean they fixed it while we chilled out with a cup of coffee and took pictures. We took the opportunity to change our sidecar wheel bearings too and the lads were hard at work from 3 in the afternoon until 9 o'clock on a Saturday night! They were happy to do it though and wouldn't let us give them a penny for their work!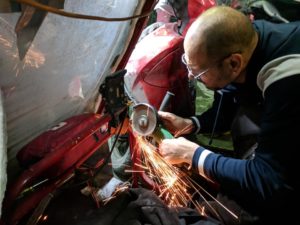 After we left Kurgan, we made our way to Chelyabinsk where we were met on the roadside by Roman. He took us to one of the city's three bike posts. This one was owned by another Vladimir. It was a bike post turned restaurant and we were treated like kings with all of the food and drink we could eat. Unfortunately, there was nothing to be fixed on the bike so there was more time for drinking vodka. We had a pretty crazy night. It involved drinking a huge amount of vodka, then going for a city tour in Roman's mustang, before returning to have a traditional Russian Banya and finally retiring to Ivan's house where we drank tea with his family and played with his children's hamsters.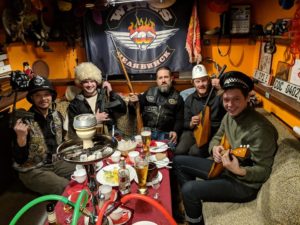 Today we've nursed our hangovers with a cool drive through the Ural Mountains which makes a nice change from the completely flat horizon that we've seen for the past month through Siberia.
Next update should hopefully come from St Petersburg, our final city in Russia!