Day 1 – The start of the first ever circumnavigation of the globe on a scooter with a sidecar. The end of two years of planning, fundraising, stressing, pitching and convincing people we're actually going to do it. And, more importantly, the first ever scooter and sidecar rally against modern slavery (albeit the first ever scooter and sidecar rally to include more cars than scooters or sidecars).
The launch of what will be the best part of 2 years on the road.
The start of stupidity.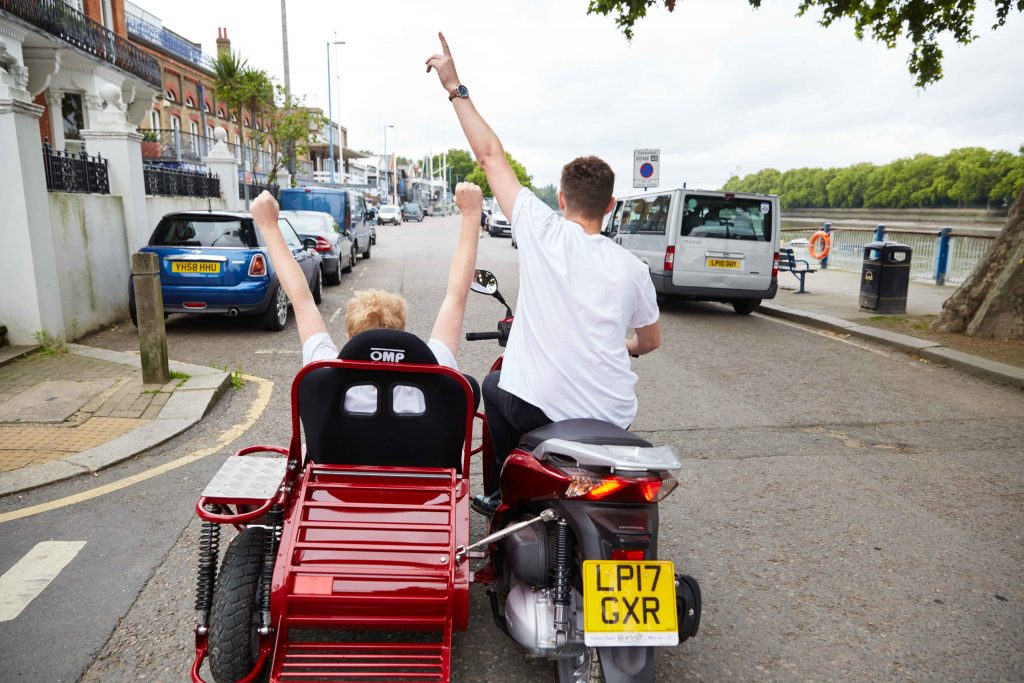 The day kicked off with a 7am meet at the iconic Ace Cafe. Sitting off the North Circular in London the Ace Cafe is dubbed the home of the British petrolhead, so it seemed like an appropriate place for the start of this ridiculous ride out. When we arranged to leave from Ace we knew nothing about it and nothing about the motorcycling community in the UK (we also knew nothing about motorcycles – and still don't). Thankfully, it turns out, that despite all the leather and loud noises, the people that run and frequent the Ace Cafe are some of the nicest people you could hope to meet. The guys at Ace not only said we could leave from the Cafe but also offered to put on one of their signature sausage sarnies for every participant and help us promote the rally too. As a result, we spent the weeks building up to the departure date heading to events with Ace and telling people about our plans.
All of this publicity led to a fantastic turnout of 65 people. The participants included all sorts of weird and wonderful vehicles, including the infamous bob the bear.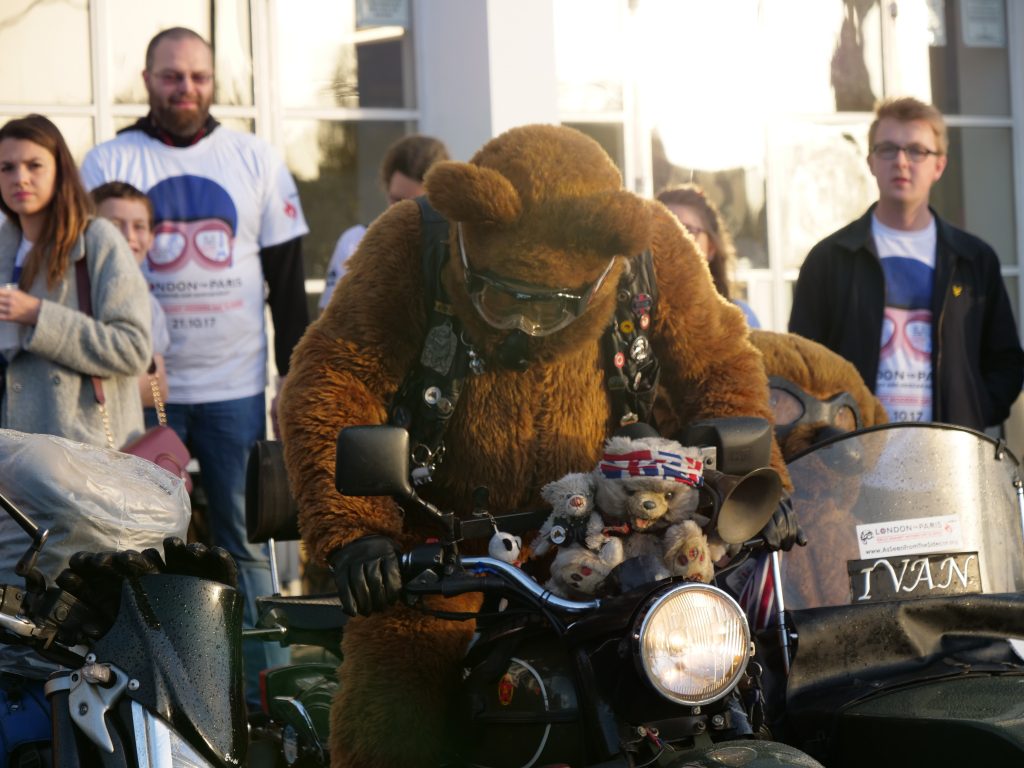 What's better was the event tied in with Unseen's Lets Nail It campaign that targeted slavery in nail bars in the UK. This meant that we had everyone (including the burly biker dudes) painting their nails florescent yellow, in a car park, at 7am on a drizzly October morning – all for the fight against slavery! A surreal but fantastic sight.
Amazingly, we had a whole host of people offer to volunteer their time to make the event run smoothly which made us look prepared. We weren't. We genuinely didn't know which way to turn out of Ace. Thankfully we had Gemma and Tamas lead the way with flashing lights and Gerry and co behind us on the bikes.  They held this position the entire way to Paris. It was truly fantastic – it was like a royal escort. The ride through London and down to the tunnel was probably the best ride we've done. It was fantastic weather and a there was a great bunch of characters all in convoy.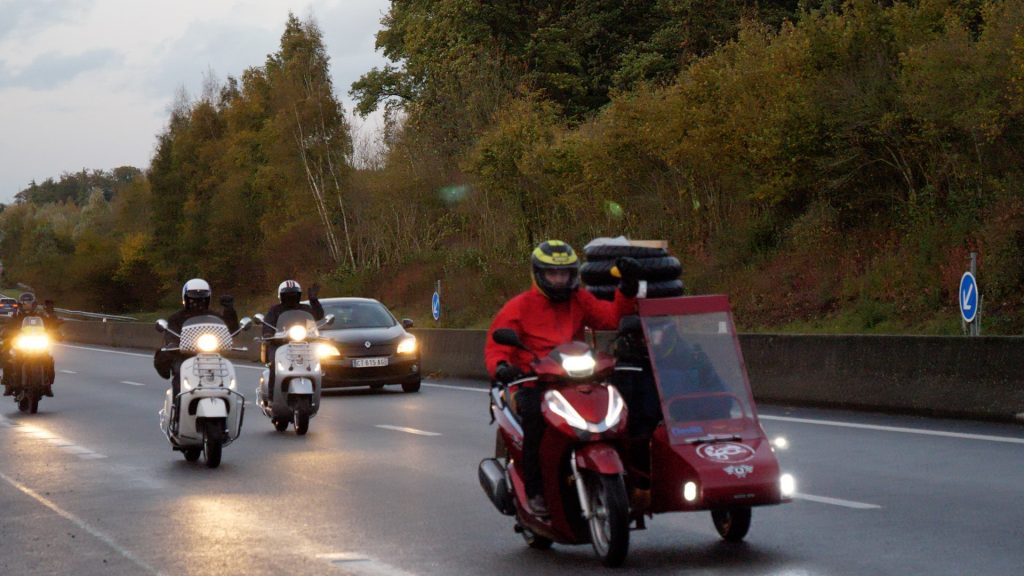 We made our way down to the tunnel which is where the heavens opened and the ride started to turn in to more of a charity challenge.
We got in to the tunnel and could have reflected on how it would be the last time we'll be on UK soil for the best part of two years. But we were far too unprepared for that kind of luxury. We were scrambling to sort out odds and ends that didn't get done before we left. Like put our GB sticker on the bike (still not done 8 weeks in – we should really do that, it would take two seconds).
France presented a new challenge – wind. The weather was unbelievable. It was the tail end of one of those storms that get a name, so it was pretty strong. It was so strong that a couple of the guys on scooters decided to stop and seek refuge in Calais for the night. The rest of us pressed on to Paris. We were behind schedule and driving straight in to the wind. With 60 people with us and more people waiting for us in Paris we had to keep some kind of pace. But in our experience sidecars ride at their own pace and for ours that was 45 – 50 absolutely flat out. So flat out that at one point we were getting around 60 miles to the tank (25mpg).
After around 12 hours on the road we pulled in to the campsite in North Paris.
We chucked our stuff down and headed to La Forge where Nicolas from Iron Bikers (a friend of Ace Café) had arranged for us to have a private dinner. La Forge is a motorcycle garage in Paris and has a little members bar above. It was an amazingly cool place and, again, made us look a hell of a lot more organised than we were. We all celebrated the success of the event until the early hours.
Then a couple of hours later it was day 2 and we were back at La Forge for an early morning ride out around Paris with Nicolas and the guys. Around 30 people made the ride out and it was absolutely incredible. We had a guided tour of all the main sights and was one of the coolest things we've done so far.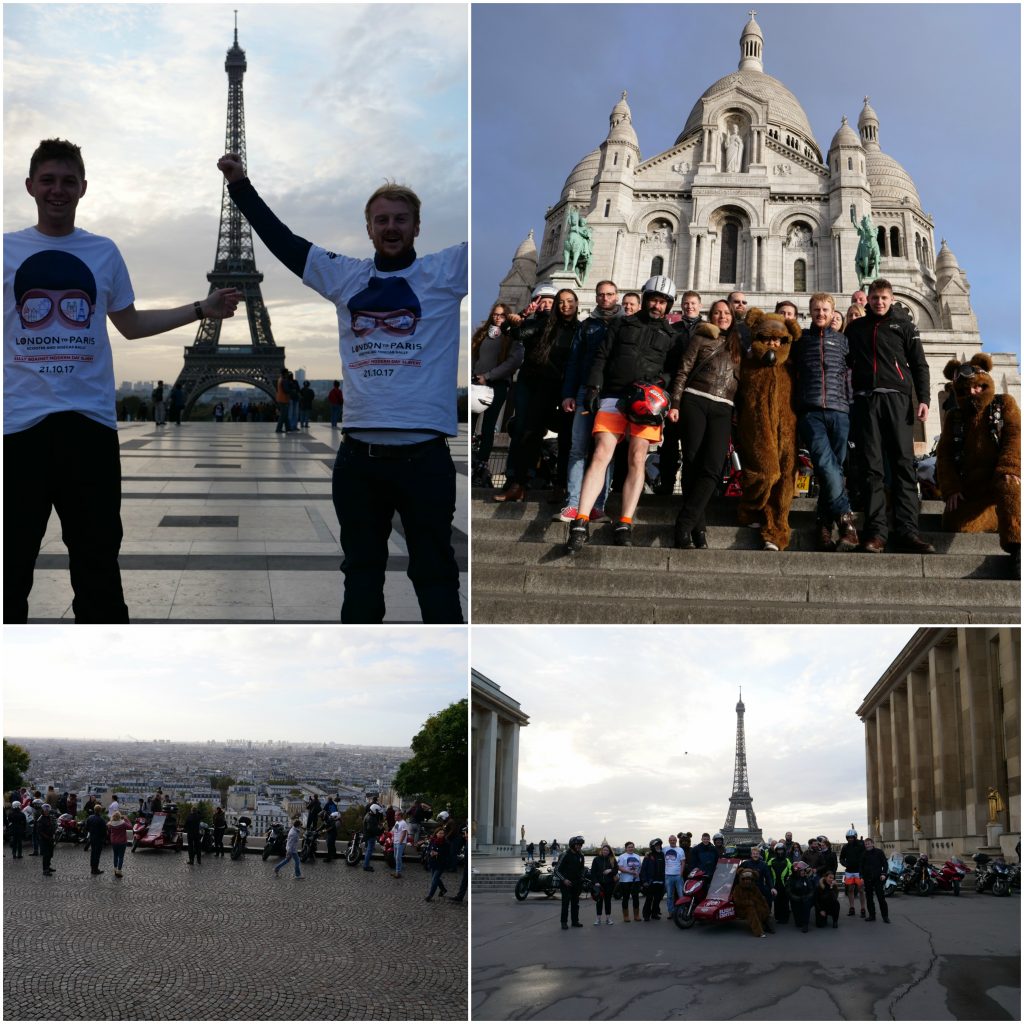 The ride out concluded the London to Paris event and from there friends and family started to head home. Reece found this particularly challenging…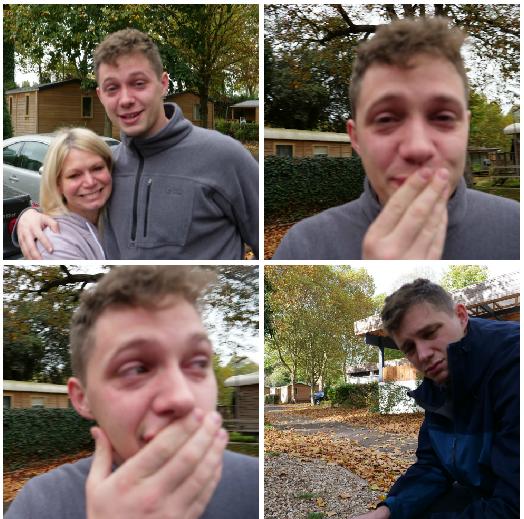 Huge thanks to everyone who came on the rally and made it so brilliant! We'll certainly be doing a 'ride in' too so keep a look out. A huge thanks too to Flight Centre, Eurotunnel and Lochinvar whose sponsorship made the event happen.
---
After the rally we stayed in France for a couple of days to visit Utopia 56 – an organisation who work to support refugees in Paris. It was a huge eye opener – check out how we got on here. We then cheesed it South to Switzerland via Dijon. Here's the route: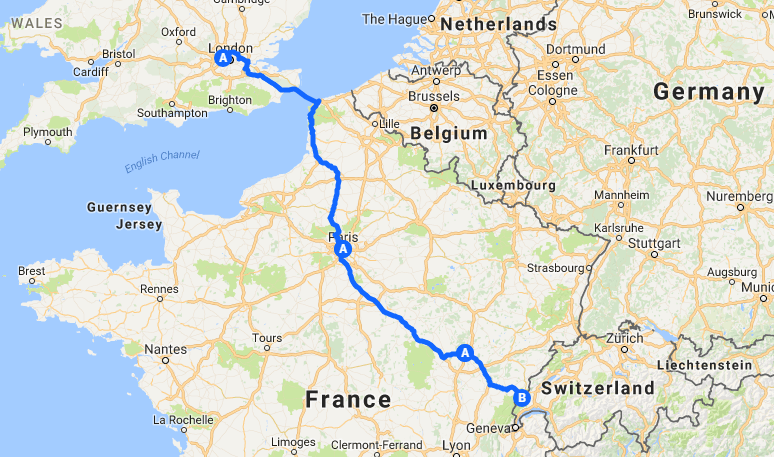 We'll be posting more blogs over the next few weeks but to keep up to date check out our Facebook, Instagram and Twitter pages. Links in the footer.