This week mother nature asked us if we were sure we wanted to circumnavigate the globe on a scooter with a sidecar. She phrased the question with four days of solid rain and then expanded on it with three days of gale force winds… Fortunately, we had some friends who gave us refuge from the elements and made it easier to reply with a yes…
We spent the first 4 nights of the week based just outside of Kranj, Slovenia. Here we stayed at an amazing cabin in the mountains. The owner of the cabin was a super generous local guy called Simon. He's a keen adventurer and a teacher in a local school too. So we spent the day at his school talking about the expedition and modern slavery – we were also lucky enough to sample a fantastic sausage and mash and gate crash after-school chemistry!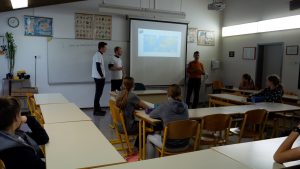 After Simon's we drove out of the Slovenian rain and went into the Croatian wind! Thankfully though, Cheryl and Rod offered to put us up in their house in Karin, near Zadar. Rod's a sidecar specialist, originally from the UK and our only connection to Rod and Cheryl, was that we asked Rod to build us a sidecar a year ago – he said he would have loved to but was off to live in Croatia. Luckily for us they turned out to be fab people and put us up for three nights, introduced us to local life and Rod even helped us fix up the sidecar! .
Here's a quick video of the week's best bits: