On the 16th December our flight chucked us straight in to Africa's largest metropolitan area – Cairo.
Cairo is completely off the scale barmy. The place is just full of hustle and bustle. The explosion of culture is so big and the city is so busy that it feels like it could burst any second. The way of life is next level different to what we're used to back home. To see the difference in all its glory, we took a stroll around the bazaars around Khan el-Khalili. It's a crazy experience that's not for the faint hearted. We found ourselves ducking under a swinging piece of beef hanging from a hook above us, at the same time as staring in to the eyes of cute little rabbits, sat next to their friends who had already been slaughtered. Finally, we managed to evade the various dead and alive animals (including the attacks of the territorial geese) and took a second to look up, to take in the grandeur of the medieval buildings towering over us. It's not just the sights but also the sounds and smells that make it such an incredible experience.  It's impossible to paint you a picture of what it's really like so here's one we took: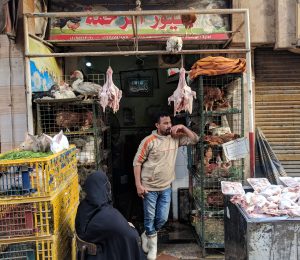 At first Cairo hits you with such a culture shock that you could be forgiven for finding it a bit much – it's just so intense. But after you've given yourself the chance to adjust to this manic city, you get taken in by it's undeniable charm. The people of Cairo (and Egypt in general) are exceptionally friendly. They just want to chat. We couldn't walk down the street without having a full-blown conversation about the UK or Mahamed Salah of Liverpool FC. If you're lucky, you'll escape with a quick natter but at least once a day you'll end up going through somebody's family tree, over a cup of thick, Turkish coffee, pilled full of sugar.
We loved it.
We stayed for 5 days and we didn't see one pyramid or visit a single museum. We spent most of our time queuing in the Sudanese Embassy, chatting football with the locals and getting spruced up for the next leg…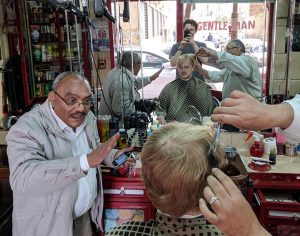 Next, we boarded the train North to Alexandria where we would be reunited with our old friend Kuishi na Kuishi (the sidecar). The train cost £2 for a three-hour journey in first class and we arrived in to Alexandria early – Richard Branson, take the journey and take notes.
At the train station we met Hassan and Farouk who had agreed to host us for a few nights while we were in town. We met them on couchsurfing and we were to stay at Farouk's gaff where he lived with all of his family. Literally, all of it. Five floors of fun. Lord knows how many kids lived there but they were very friendly. We spent the next week, including Christmas day, living in their family home. For us it was a rare opportunity to really get to experience a different culture. Farouk's house is in a line of terraced buildings, that backs on to a train track, that cuts through a local market, that sits next to a tuc tuc station, that doubles as a footy pitch for the kids. The place was teaming with life, 24 hours a day. It felt like nobody slept and certainly not the kids who made you play a quick round of next goal wins every time you left the house.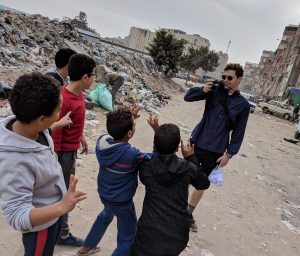 The place is amazing, but life is hard in Egypt right now. Tourism once thrived in Egypt but over recent years security concerns have sent most holiday makers elsewhere. It's had a real effect on life for almost everybody. Farouk and Hassan both dream to travel but it's hugely expensive. Both are working two jobs and all of the hours under the sun to save for expensive visas they need to get out of the country. So much so that when they invited us to play football, we kicked off at 12 midnight – because it was the only time people weren't working. Knowing how tight up things are for people here right now makes the Egyptian hospitality that bit more special. We were treated daily to a mixture of strawberry milkshakes, chip butties and falafel wraps by Farouk's family and they were just so, so generous towards us – it was incredible.
While we were at Farouk's we celebrated Christmas. Well we say celebrated. We just queued at the port and then went for a beer in the evening.
Side note: Beer in Egypt is a thing. All alcohol is against the law but it's easily accessible as a foreigner and Egypt even has a national beer – Stella (no relation to Stella Artois).
Farouk doesn't drink alcohol because it's against his religious beliefs. This lack of pint led us on to a 4 hour long conversation about religion and all other things in the world. It was a fantastic opportunity to really try and understand his point of view and what was crazy to us was that every question we tossed at Farouk he batted away with a simple answer that really made you think.
After Christmas we spent boxing day sat in the port before we finally received the sidecar on the 27th. The next morning, we said goodbye to Farouk and Hassan (and seemingly everyone else in Alexandria) and we headed South from Alexandria towards Sudan, via the desert…
Find out how our journey through Egypt went in our next blog… there's a breakdown, a puncture and a saw thumb in store.