Week 30 is done and we've driven the best part of a 1000 miles from the Uyuni Salt Flats through to Cusco, Peru. We wanted to take the sidecar actually on to the Salt Flats but unfortunately, there's essentially a moat around the flats and despite a good go we couldn't get the sidecar through the sludge and water. Fortunately, we still got to experience it as we took a 4×4 sunrise tour. The tour consisted of a guy driving us on to the flats at 3:30 am getting his blanket out and sleeping through to 8 am when he brought us back. But to be fair to him no more needed to be done. It was spectacular. It feels like it's completely out of this world. Here's a couple of snaps: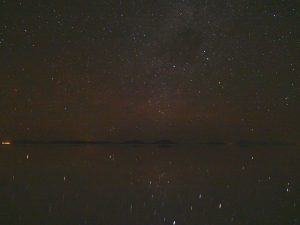 You can't make it out too well in this picture but the Milky Way was reflecting perfectly in the shallow layer of water sitting on the salt. Then the sun came up and we found ourselves in the most other earthly place we've ever experienced…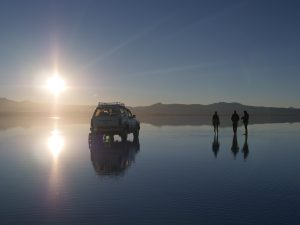 After the salt flats we set off North to La Paz. The night before we had been contacted by Oscar, a Bolivian guy who is big in to his bikes and offered to put us up in his amazing pent house flat looking over the whole city. The only down side to the view was the climb to get to it and the last 500 metres of steep gravel track was the straw that broke the camels back for our third clutch. It completely burnt out as it did in Ethiopia and we had us, Oscar, and his right hand man Juan pushing it uphill, well after dark. It was a stupidly dramatic entrance.
Thankfully, Juan offered to help us clean up the old clutch and fit it back on. And even better, it turned out he was a complete genius and had it done in a jiffy. He made it look so simple and having spent the best part of three days doing it ourselves in Africa we were in complete awe.
After exploring La Paz, we headed for Lake Titicaca. Which apparently is the highest navigable body of water on the planet (let us know if you know what that means) and perhaps more impressively, in Andean belief, the birthplace of the sun. We enjoyed a drink watching the sunset over it's birth place before striking North again to Cusco, Peru. The road here was full of ups and downs as was our week but full of adventure and nearly another 1000 miles closer to Alaska.