On June 17th we drove the final 700km of Colombia to reach Cartagena – our final stop in South America. Over the 3 months we were in South America we racked up 6000 miles through 5 different countries and were blown away by the breath-taking landscapes and friendly people -South America is a continent truly like no other and is certainly worth a visit. Despite this we did feel slightly disappointed that we were unable to find out more about modern slavery in the region. It's always hard to find the connections on the road but it was especially hard out here because we don't speak Spanish. In Europe and in Africa, English is used all over the place and a lot of people speak it but out here that is not the case. We had tried to learn some Spanish while driving up the continent and while we can order a coffee with milk, it's certainly not enough to discuss something as complex as modern slavery and human trafficking in the area.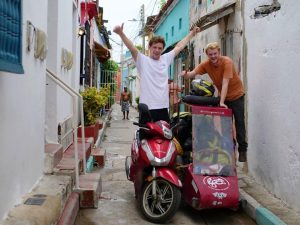 So once we arrived in Cartagena we had some spare time and decided to do some more research on slavery in South America. Colombia itself has a population of over 48 million people and over 300,000 of them are thought to be living in a life of slavery. But that's just Colombia – it's estimated that there are a massive 1.2 million people enslaved across the South American continent. A petrifying statistic to say the least. The main forms of slavery within the continent are forced labour – usually targeted towards uneducated men, sexual exploitation which mainly effects LGBT groups, women and children and at times there have also been reported cases of forced begging.
Through our research we also came across a small town called San Basilio de Palenque. San Basilio is said to be the first town in the Americas free from slavery and it just so happened that it was little more than 50km from Cartagena, where we were staying at the time.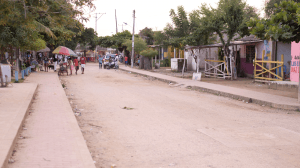 After reading up on San Basilio de Palenque we were keen to go and check it our for ourselves.  Naturally we thought, the only way to get there would be by motorcycle. In stepped Motorcycle rental Cartagena. The guys loved our trip so much that they offered to give us two motorcycles free of charge for the day.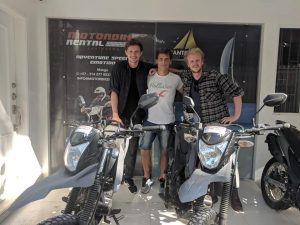 To our surprise when we arrived at San Basilio it literally felt like we had stepped back 3 months into Africa again. Very few, if any, 'Colombians' live there and most people  identify themselves as African. We spoke to a few locals who were extremely welcoming and asked them about slavery and San Basilio de Palenque. They took us to the statue of Benkos Bioho pictured below . Benkos Bioho established the community of San Basilio when he escaped from a life of slavery in the 16th century.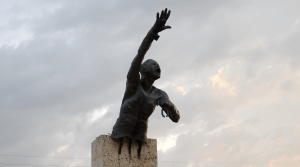 He was born into a royal family that ruled islands just off the coast of Guinea-Bissau but was captured by a Portuguese slave trader and transported to Colombia where he was enslaved. His story is one of many similar stories that have lead to Colombia having such a big African influence.
We tried to chat to the local guys about modern slavery in Colombia too. We asked them if they thought slavery still existed and they of course said no. We tried to let  them know that Benkos Bioho's work was not yet done and there were still 300,000 people enslaved in Colombia but we would have needed a few weeks in the village to get that message across.
Check out the video below of the day we explored Colombia a little further on solo motorbikes. Huge thanks to Motorcycle rental Cartagena for lending us a couple of bikes. We're now heading North through Mexico trying to reach Alaska before it's too cold!