The scenery in the US is just unbelievable!
We've been in the US now for a few weeks and are well and truly making our way through this huge, huge country. This week started in Denver, CO. We were staying with the Bacon's who are Reece's brothers better half's family – they really took us under their wing. What was intended to be a short stay turned into a 5 night stay as we explored Denver, were treated time and time again and gave the bike a much-needed service.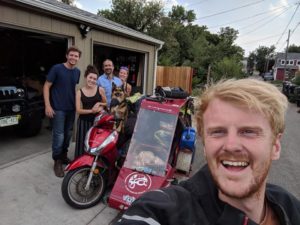 Eventually, it was time to say goodbye to the Bacon's and hit the road again driving west over the Colorado Rockies. We started by driving back towards Colorado Springs where last week we had put the sidecar in a trailer to Denver to avoid completely burning out our very bald tyres. We set off quite late in the day and despite servicing the scooter, and it appearing in the best condition it had been in since we left the UK, it constantly kept overheating. This meant we had to drive a little slower than usual meaning nightfall descended upon whilst on the main highway. Concerned by the fact that the road between Denver and Colorado Springs is deer territory and at night they particular enjoy playing chicken with traffic, we pulled in and spent the night in a Walmart car park.  We strapped the hammocks to the lamppost and slung them up on the sidecar. It wasn't the comfiest sleep but we managed a few hours.
The following morning we got up bright and early and headed for Cripple Creek, a small town 30 miles from Springs and home of Colorado's biggest yearly motorcycle rally. It was awesome to see so many Harleys cruising through the mountains and having a blast all in honour of the veterans who were either prisoners of war or missing in action.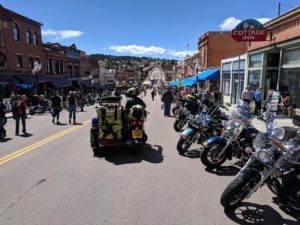 That night we slung our hammocks up in Pike National Forest – this was bear and mountain lion territory. As instructed we hung our food in a tree 20 metres from camp and tried to get some sleep. Around 1am though the heavens opened and the rain started to pour down, fortunately Reece made us put our rain fly's up a few hours before otherwise we would have been in serious bother. It was a very cold night though and we still ended up pretty damp!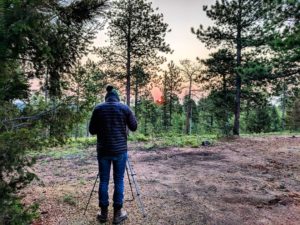 The final night of the week saw us stop in Kebler Pass, home to hundreds and hundreds of pine trees which we believe come from one root base making it the world's largest living organism. It was another reasonably cold night but nowhere near as cold as the one before as we put our air beds inside the hammocks. It wasn't necessarily comfy but we're learning and are still hoping to one day turn our hammocks into a home.
So that's pretty much the whole week summed up, it's been slow progress with the bike constantly over heating but we're not complaining. The scenery and landscape is just so spectacular that you could linger in the Rockies for an eternity. If you've never been to this part of the world you've got to get yourself out here!!
Don't forget to check out our latest vid below, it's just a small taster of how spectacular Colorado really is!