8 countries | 13,800 miles | 2 Continents | Hours on the road… too many
We have finished our Americas leg of the trip but we didn't make it to Alaska!
Not making Alaska was a real shame as we have had it in our sights since we landed in Santiago but on this occasion it just wasn't to be…
We stumbled in to Vancouver at the start of September having crossed the border in to Canada with no exhaust, a loose back wheel and a whole host of other problems that were going to make it tough to drive to Alaska. You guys had decided that we should go to Alaska via a Facebook poll but given the state of the bike we decided to make it a 'soft Alaska' and just touch the closest border. The closest place was a tiny border town called Hyder but it was still another 3,000 km round trip to get there and back for our shipping. Fortunately, we were able to get a new custom muffler fitted and we managed to bodge the back wheel back together with an extra spacer to keep it straight. These little changes meant we were a long way from riding in perfect condition but we could at least give getting to Alaska a go!
We drove north for the next few days, camping by the roadside in the incredible British Columbia countryside as we went, until disaster struck, just 500 miles from the Alaska border. Our drive belt snapped. It was something that everyone had warned us about before we left but amazingly, 26,000 miles in, this was the first time it had happened. Fortunately, we were carrying a spare that we were able to fit in under an hour with the help of a passer by called Nate. Unfortunately, the spare was an old belt that had got damaged when our clutch burnt out in La Paz. With a big chunk of the belt missing we couldn't trust that we would get through the hundreds of miles of wilderness to the Alaska sign and back, without it failing. In fact we weren't sure it would even get us back to Vancouver so we felt we had no choice but to turn south, miss Alaska, and try to make it back to Vancouver in order to catch our boat. It was a real shame to get so close to Alaska and not make it but the drive through Canada was still fantastic and we even saw a baby black bear on the final night on the road!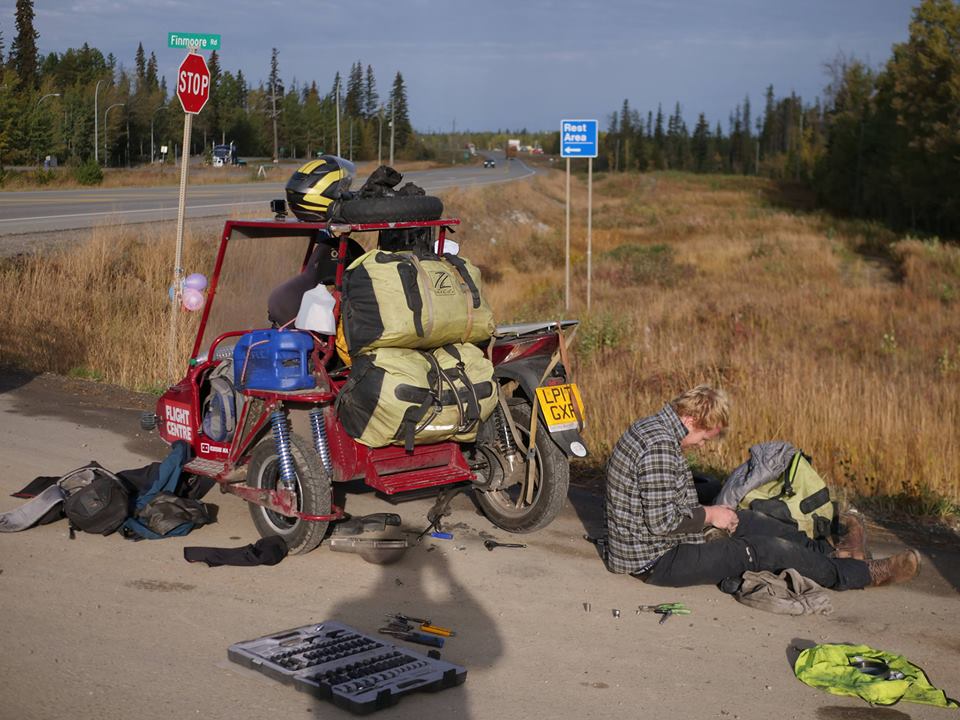 When we got to Vancouver we got straight on organising the bike to be shipped on to our next destination – Russia! We've spent the last 3 months working out where to go next and we have planned out every possible route back to the UK. Check out this video for a lengthy explanation of why we think the most sensible way of driving home is to take a scooter and sidecar through a Siberian winter…
So the reason we're back in the UK is to get our Russian visa – unfortunately you have to give your finger prints in the embassy of your home country and there is no way around it. It was annoying as we really wanted the next time we'd be in the UK to be after we'd driven through the channel tunnel but nonetheless, after a year on the road, it's good to be home.
We'll be back out in Russia as soon as our visas are approved! Until then here's a quick video of our last couple of weeks on the road in Canada.
And one of our US road trip!