We're off to Russia! Thanks to the guys at Flight Centre UK we will be flying out to Vladivostok this Saturday! We'll get there on Monday and then on Tuesday we will start the lengthy process of getting the bike out of the port. When we finally escape the grasps of Russian bureaucracy we will do a few days of maintenance on the bike before we eventually head west towards the UK!
This will be the toughest part of the route to date and will be one hell of a challenge. With temperatures reaching as low as -30°C it's going to be exceptionally cold and we're not sure how that will affect us or the bike. The 10,000 mile long route home should look something like this: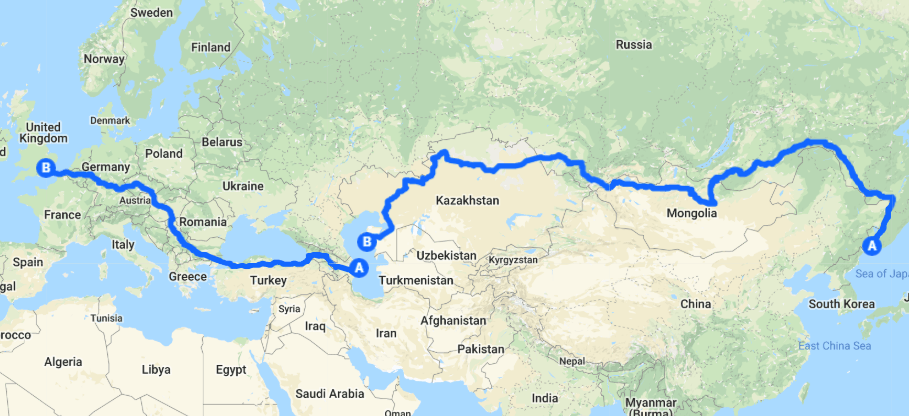 The journey should take us through another 12 countries and will be full of amazing scenery and ridiculous challenges. We genuinely have no idea how long the drive will take but we think it should be something between 3 and 6 months of travel. It all depends on how the bike handles the cold and if we can bare to keep on scooting through the sub zero temperatures. Thanks to our brand new sponsors Oxford Products, Snugpak and Michelin Tyres we are in a pretty good position to take on the cold. But as always, neither of us have ever done anything like this before so it should be fun to watch.
We'll be mainly sharing the journey on our YouTube channel and you can subscribe to it here to make sure you don't miss an episode. To get everyone a bit excited about what's to come, we've launched a brand new trailer for our Siberia series on our YouTube channel. Check it out:
Remember too that you can get additional access to behind the scenes footage along with lots of other perks by becoming our patron. Just visit our page at http://www.patreon.com/sidecarstory to sign up – tiers start from just $5 a month!